Brazil humiliated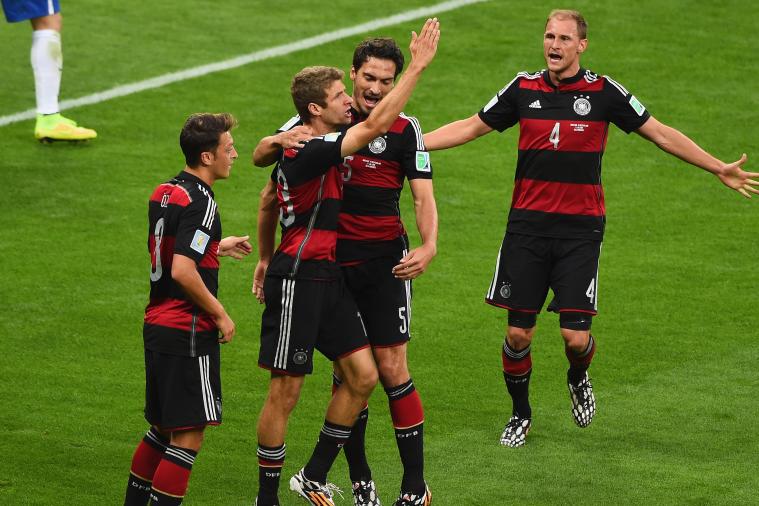 A thunderous occasion that began with Brazil riding a tidal wave of emotion was reduced to a nightmare as Germany were 5-0 up inside 29 remarkable minutes in front of a disbelieving Estadio Mineirao crowd.
Brazil's players mourned the absence of the injured Neymar before kick-off, but captain Thiago Silva was an even bigger loss. The result was their first competitive home defeat in 39 years, and the end of their hopes of making it to the World Cup final at the iconic Maracana on Sunday.
Instead, Germany will meet either Argentina or Netherlands, who meet on Wednesday in Sao Paulo.
Moments before Tuesday's semi-final with Germany kicked off, Brazil coach Luiz Felipe Scolari hugged his opposite number Joachim Low and handed him a presentation bag containing a small present.
Unfortunately for Scolari and his team, the gift-giving would not end there.
Over the next 90 minutes, in perhaps the most surprising, jaw-dropping result in World Cup history Brazil were demolished 7-1 by a rampant Germany side, as a combination of woeful organisation, shoddy defending, individual mistakes and incisive attacking (the Europeans deserve some credit, after all) sent the tournament hosts out of the competition with their tails firmly between their legs.
This was scarcely believable stuff, even as it happened in front of the world's eyes. To put it in some type of context, this was Brazil's first competitive defeat on home soil since 1975—a 3-1 loss to Peru that also happened in Belo Horizonte's Estadio Mineirao. It was the first time they had conceded four goals since a 4-2 loss to Hungary in the 1954 World Cup.
It was every bit as harrowing as the Selecao's most famous home loss, the 1950 World Cup final defeat to Uruguay that now has a brother in the annals of history.
The majority of Brazilian citizens are not old enough to remember that "Maracanazo," of course. But they will not forget this "Mineiraco" (as it is already being called) as long as they live.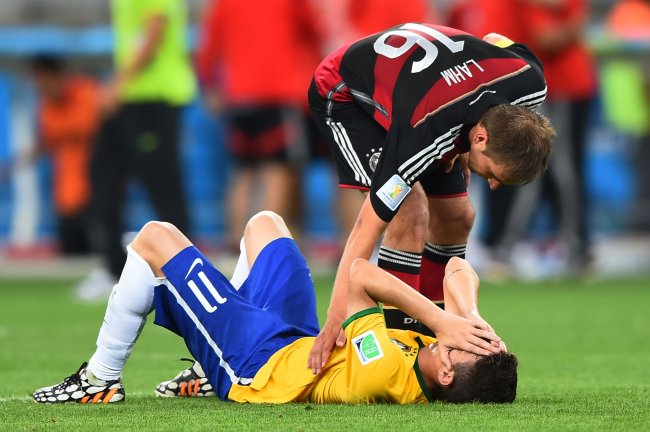 Neither does Scolari's post-match attempt to shoulder the consequences.
"I am responsible for this catastrophic result," Scolari said (per Sky Sports). "I made the choices. I was responsible. We ask for forgiveness. To the people, please excuse us for this negative mistake."
Without Neymar, their icon and only true attacking threat for much of the competition, Scolari opted for the diminutive Bernard. But theShakhtar Donetsk winger is not in the class of his illustrious team-mate and could not cover for the mediocre talent of Fred and Hulk asNeymar had previously manfully achieved.
When Brazil went a goal behind in the 11th minute, the panic among players and fans was palpable. Not only were the hosts behind, but it was evident to many that their attacking line, even with the assistance of Oscar (who would eventually get his side's "consolation" goal), would struggle to fashion the openings required to get an equaliser, let alone a winner.
Assuming neither Hulk nor Fred score in the third-place play-off on Saturday, they will leave the tournament with a combined zero assists and one goal—Fred's tap-in against Cameroon in a game that was arguably already won.
After he was substituted in the second half, the striker was booed roundly whenever his face appeared on the ground's big screen. He was one of the scapegoats, but there were others more to blame for the defeat on this night.
Without Thiago Silva, the team's captain and defensive lynchpin, Brazil looked shorn of discipline, organisation or basic defensive ability at the back. Bayern Munich's Dante (a player Pep Guardiola seems to need to cajole and organise through every club game) replaced Silva, but it was his usual partner, David Luiz, who took on Silva's responsibilities as the team's captain, leader and organiser.
Luiz was the hero of the hour as he scored the winner in the quarter-final against Colombia, but without his anchor alongside him in this game he was every bit the player "being controlled by a 10-year-old on a PlayStation," as former Manchester United defender Gary Neville memorably described him (via London Evening Standard).
Emotion got the better of him, and his team suffered as a result.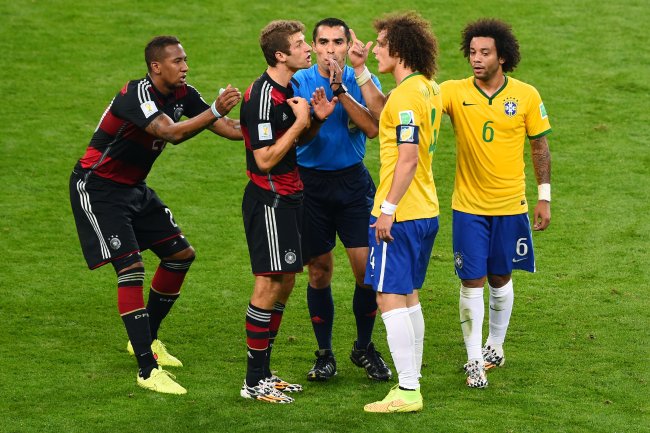 By that time Brazil were already 1-0 down, thanks to Thomas Mueller's finish from a well-worked corner. Miroslav Klose grabbed the second soon after, in the process passing the great Ronaldo—commentating on the disaster from the stands—as the competition's all-time leading scorer (with 16).
Then, a Luiz two-footed tackle (that perhaps deserved a red card) and wasteful midfield passing from Fernandinho and LuizGustavo were interspersed liberally around two goals from Toni Kroos(one a tap-in, one a fine first-time strike) and the game's fifth from the impressive Sami Khedira.
Those goals all followed the same pattern—abject marking and tracking, acres of space for German players and all the time in the world for one of them to pick out a pass and beat Julio Cesar.
The goalkeeper was often helpless; his defence was hapless. This was not the best game for the defensive unit to break down, with Germany better suited to take advantage than most.
With Mueller—invariably left unmarked by the breathtakingly undisciplined and inattentive Marcelo—and Klose so good and occupying the vast spaces in the Brazil backline, Mesut Ozil, Kroos and Khedira had the passing ability to more than exploit the deficiencies.
In the second half, as both sides made substitutions seemingly with the sole intention of preserving the scoreline as it was, Brazil actually started reasonably brightly.
Oscar wasted one great opening beforePaulinho forced two smart saves from Manuel Neuer, but Brazil could not find the early goal that may just have offered them a glimmer of hope (Germany did throw away a four-goal lead against Sweden in their qualification campaign, after all).
As frustration grew, some players responded by diving anytime they made their way into the box—cynical attempts to con the referee that reduced the sympathy neutral observers may have been feeling.
Germany would ultimately add two further goals from the many chances they had, as substitute Andre Schurrle beat Cesar twice with well-placed strikes.
Oscar then belatedly, perhaps undeservedly, scored a well-taken equaliser after breaking in behind the German defence—a turn of events that was greeted with anger by Neuer and boos from a thoroughly disgusted crowd.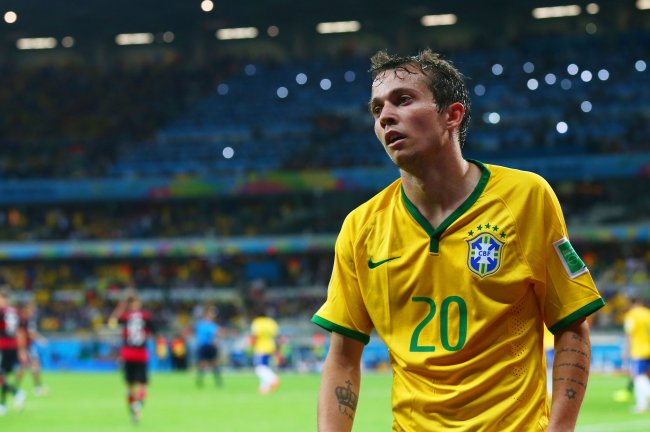 Without Neymar and Thiago Silva, there had been a certain reduction of expectations in Brazil, a country that had its sights set on winning the competition almost as soon as they were confirmed as hosts.
A semi-final exit, without their two main players, would not be a disaster; it could be written off as a reasonable achievement considering the external factors.
The manner of the defeat, however, speaks to so much more. It speaks to the lack of overall quality of this Brazil side, as well as their inability to handle the pressure as it continued to rise.
It spoke to the incisive attacking brilliance of Germany. But most of all, it spoke to the disastrous efforts of Brazil's individuals on the night.
This was a humiliation. Brazil will not soon forget this, nor will anyone who witnessed it.
Got an opinion on this story, who are YOU backing  TO WIN NOW??…….
Join in the debate in the FORUM COMMENTS BELOW or contact Always Back Winners through our FACEBOOK LINKS or you can even tweet to us @BackWinners
Sign up to our 
BRAND NEW

 newsletter for a weekly round up of offers, antepost views and competitions etc [mc4wp_form]
Get up to £500 of FREE BETS from our betting partners…
Check it out<<< 

Here

>>>